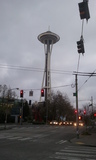 I've recently accepted a job in Seattle. There is no better time for me to move: the kids are all the correct ages to change schools along with a bunch of other new students. Sequestration hit the government simulation industry the day after I left: the project had to arrange for furloughs. (The title is what my wife said when she heard about the furloughs. She's awesome.) The housing market is starting to look up in Florida, so my house might sell easily.
My wife is staying behind with the kids to sell the house and finish out the school year. I miss them, so I've been taking a few pictures of Seattle as I walk to work.
Neatest thing? My walk takes me right past the Space Needle!
Here are some other things I saw in Seattle.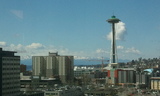 The Space Needle, as seen from a building where I attended an orientation. I was warned that Seattle would be gray and rainy. My timing was, again, perfect: there was some nighttime drizzle as I drove from the airport, but that cleared up in time for me to see the whole city lit up at night. I wish I could have taken a picture.
It hasn't rained since. It's been clear enough that you can see the mountains in the distance. Plenty cold, though, for a Florida boy.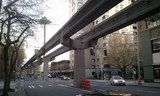 Florida folks will recognize this as a monorail line. I haven't seen the monorail, yet. I'll have to investigate.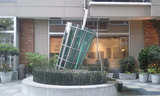 During my visits to Kansas City, I discovered why it was called "The City of a Thousand Fountains". I didn't see all one thousand, but I also didn't see anything as clever as this. The gutter drain looks like a straw, and the fountain keeps water pouring out of the "cup".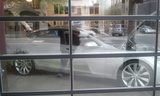 Yes, I'm a Tesla fanboy. Yes, they have a showroom right here in Seattle! Yes, that's the Model S! Yes, that sound you heard in Florida yesterday was me squee-ing!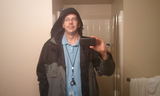 I heard that people never use umbrellas in Seattle. I've seen a lot of folks with hoodies -- apparently I'm not the only one who finds it a bit chilly.
My big overcoat kinda stands out, though. And my light sweater pulls over my head, which is inconvenient (and a spectacle for everyone who watches me take it off).
But when I stopped at the Fred Meyers, there wasn't a single jacket less than $40... on half-price sale. Regular price is no less than $60. Yikes.
I found this lovely black-and-silver (okay, gray, but black-and-silver is my favorite color combo) number at Goodwill for $10. Fits nicely. Water-resistant, if not waterproof. Lots of pockets, mostly with zippers. It's my new favorite jacket.
I'm going to try it out on my walk to work today. I'll also try out some new gloves I bought at Goodwill.
Seattle is turning out to be a decent city. Too many smokers, but a nice place nevertheless. I enjoy walking wherever I need to go.
It's not Oviedo, but we're not going to move here anyway: we're heading to a suburb. Miss you, guys!