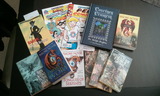 So, everyone is aware that I work for Amazon now, right? I'm coding in the Kindle division.
So what do I the first free weekend I get in Seattle? That's right, I go hit all four used bookstores in the Pike Place area and spend all my free money on books.
Still, it's a nice haul. Plus, I'll finally get to see what this "Earthsea" stuff is all about.